We recently met the Managing Director of Headless Horse.
Headless Horse is a fledgling creative design agency that works flexibly. Work at the agency happens in the office, but also at airports, on trips, and at home.
How can creative individuals take control of their career and build a business that allows flexibility, fulfilment, and an expanding client list?
With a number of impressive commissions, Headless Horse has achieved growth, creative freedom, and working flexibility.
But nothing worthwhile is simple. As Headless Horse's story shows.
On experiences before the business
Can you tell me a bit about your background and what led you up to where you are now?
I went to the University of Edinburgh, where I studied product design for four years.
During that time, I did some freelance illustration work for an agency called Début Art . That led to me doing some stuff for Adobe and some work on behalf of Behance. As you can see, throughout university, I was exploring anything creative wise.
In the final two years of university, I started to set up Headless Horse. It began as an illustration agency and is now starting to grow into a fully- fledged creative agency.
Illustration work by CEO of Headless Horse
On the decision to set up a business
Why did you decide to set up Headless Horse?
I wanted to work for a company in England. They messed me around. They kept saying "oh you know, we would love to work with you and get you down here".
Things fell through. Promises were made and were broken. Things didn't happen and I just thought I could do a better job.
So, you wanted to take things into your own hands?
I wanted control.
You wanted more control over your work and how it's distributed?
Yeah. I had an internship with another company and I became redundant.
That, I thought, was a secure job but it wasn't.
The most secure job was my own illustration work.
So, I was like, "well, sod it". I can do better on my own than with somebody else.
I thought, this way, I can hold myself accountable to how much I'm making. I know what projects are coming in. I can decide which ones I can take on board and what projects I need to say no to. This way, there are no gatekeepers dictating or policing how I can do something.
I am creating for the sake of creating. If people don't like it, then they don't like it but if they do, they do.
On the business name
Why 'Headless Horse'?
During my A Levels, I did well in Art and Technology but failed maths.
My maths teacher said, "it's like flogging a dead horse".  She said, "look, do what you love and do it well".
In other words, she meant, there is no point in trying to force somebody to do what they don't like.
You can't flog a horse that's already dead.
On the work of the business
Can you explain what your company does?
Anything super obscure or niché.
Whatever the client wants, anything you can't find anywhere else.
For example, not long ago we created white marble shoes for Nike and a marble perfume bottle for Chanel.
It's all very selective.
Who are your clients?
A lot of the work we do is commission work.
Currently, our clients are the SBC, Nike, Rolls-Royce, Kiehl's and Vogue.
Our typical client is quite high-end. Luxury.
Headless Horse's white marble Chanel perfume bottle
On the challenges of setting up the business
When your agency started, who was there?
Me, to begin with.
What were the challenges when you first set up the agency?  
One of the challenges was growing up and thinking of it as business and not a hobby. Not only thinking of it as a business but treating it like a business too.
In a few months, I wanted to create a coherent, solid and established brand that seemed like it had been around for decades.
That was tough.
I also struggled with taking on many roles at once. I had to take on a managerial role, illustrator role, accountancy role, web development role, social media role and even, a legal role.
It was a lot.
What sort of people did you take on to help you when you were struggling?
At first, accountants, lawyers and web developers.
From there on in, it was a case of picking out talent.
I now have 10 employees on the books.
You had never run a company before so, how did you find your feet?
Well, I went to a lot of conferences to learn about how companies started off.
A lot of people there were saying to me that age is a complete advantage when you're starting off. You could fail for a few years but then you get to 26 and you've learnt a lot.
I suppose the challenge then could be that people consider you quite young and naive and so they might not take you seriously?
Yeah, a lot a lot of people were saying initially, "why does a 20 something-year-old get to do x, y and z?"
I found that a lot of people wouldn't part with money and their brands to someone my age because they think I have no experience.
Doesn't your experience speak for itself? It says, 'this is what I have done.' 
Precisely.
I show them my portfolio and I show them my ideas.
I don't show my name, age or anything about myself, even on the Headless Horse website.  Anonymity is a complete advantage.
There is a good quote from the New Yorker that reads, "on the internet, nobody knows you're a dog."
The quote lies next to a comic of a dog, on a computer pretending to be some guy but obviously, no one knows it's not a dog.
Even our website also has an air of anonymity about it.
All that is on our website is images. There is no text and that is enough. We let people fill in the dots themselves. We want to give people the impression of what our company is.
People come to our company and say, "can you do this?" and we say yeah.
We don't want to box ourselves in, by saying we can only do x, y and z.
On the clients
Do the majority of your clients come through your past illustration work? How have you retained these clients?
A lot of the clients are people I and Headless Horse have stayed in touch with.
We keep customer loyalty by giving people gifts (i.e. like our Nike marble trainers).
We do things like this, that are quite expensive, that no one else would do. We make a fuss over them and make them [clients] feel important. We are also quite good at identifying what a client wants and determining how we present it to them as a fully- realised thing.
Headless Horse's white marble Nike trainers
On flexible working
How flexible is your job?  
It's pretty flexible.
Right now, we're taking on full-time clients. That means working every day and at the weekends to ensure they're happy. Normally, it's not like this.
Usually, it's me coming up with ideas, choosing what I want to do and whether I work at the weekend.
It's up to me at the end of the day.
On the benefits of flexible working
If I were to say the term 'flexible working', what sort of words would you associate with it?  
Freedom.
No sense of commitment (i.e. you can come and go as you please).
I guess it's the freedom of choice.
For example, I can choose today that I want to see something to get inspired or I can decide that I want to put my head down tonight and get something done.
I suppose it's a creative business, so you have to respect the fact that things will come to you. You could have an idea right now.
You can't structure that kind of creativity.
On the challenges of flexible working
What are the challenges of working anywhere?
Privacy. It's quite hard to achieve this. You do your work and find yourself looking over your shoulder, getting distracted.
Also, having a lack of Internet.
Discipline is hard. I need a space to work. Having a space to work, it's like having a study room, I feel that I'm compelled to work because I'm in work.
On the current working space
Where do you work throughout the week?
I used to work from home but it's so lonely and it's very hard to separate work from home.
So, now I have an office in Codebase, in Edinburgh. It's a shared space.
I choose to work there Monday to Friday.
Do you have flexibility over where you want to work?
Yes.
For me, working at Codebase allows me to lock the door at night and think, "it's gone."
Why do you work in that specific space? Why did you choose Codebase?
The fast internet, the good postal address and the creative community within it.  
So, you can choose where you want to work but you've chosen that place because of its benefits?
Yes.
I mean, I can take my laptop, go on holiday and still have money coming in.
I've done stuff at the airport and on a plane.
Clients are happy. I'm happy because I'm away. They get what they want but I can choose where I want to be.
On the ideal working space
I want you to picture an ideal working space.  Where is it and do you currently work in that space?
It will be in Edinburgh.
When thinking of aesthetics, the space will be a historic building.
It will be a space for people to be really inspired. There will be lots of artwork on the walls.
It will be more of an office space that is reflective of the brand. This office space will be bespoke, one-off, very original and it will have an edge of history running through it.
The space will help inspire the work we're doing and it will also inspire the clients. It will make the clients think we're knowledgeable, that we are historic and have been around for decades.
When considering the layout, the office won't be a shared space. Shared spaces don't work too well for me anymore. Sometimes clients are a bit embarrassed. They like exclusivity and formality.
This working space will also act as a base.
If people are working independently, then I'd like to think that they'd want to come to this future space every so often.
Equally, if one person were travelling or based in America, then it would be nice for them to have somewhere to come home to visit.
Why Edinburgh?  
Most people I work with are based here. It is a nice part of the world as it has a sense of place. Everyone is quite proud to be in Edinburgh and be Scottish. It is not London. London is getting a bit busy. Edinburgh is like a haven. It doesn't feel so heavy. I get a migraine when I go to London. I'm not tired of it here.
On professional development
What information sources do you use to educate yourself further? What sort of books, blogs and websites do you use?
I used to go to conferences and I used to read a lot of books about productivity and management.
Initially, it's good to learn some basics in business or skills in a specific line of work. However, at the end of the day, the truth is there are people who are far better at a particular job than you are. So, it's better to just talk to people who have experience doing that job.
For example, I'm currently doing stuff in jewellery. I've no experience in that but there are people that are really good at it and I go talk to them.
Who have you spoken to that you've learnt a lot from?
People who aren't necessarily business types, who see things from a different perspective.
One of my mentors runs a fitness company but he is super clever about being social. He knows how to make people feel part of something.
From him, I learnt more about psychology and how the power of attraction works.
My agent also has a really good eye for commercialising illustration work.
On personal values
Do you have any specific values as a professional?
Consistency and failing really quickly.
When you say 'failing', do you mean making mistakes and learning from them?  
There's more value in being decisive as opposed to indecisive.
Sometimes, there's value in making the wrong choice.
If you sit around and think "I don't know" or "I'm worried about it", you don't do anything. If you fail then at least you can get feedback and learn from it.
What would be your advice for people who are thinking about working more flexibly or are thinking about starting up a new business?
Be decisive. Do it.
Don't be afraid to make mistakes.
Don't be afraid to fail.
Put yourself out there.
For example, we put stuff on Instagram 10 to 20 times a week. The market decides what they like and don't like at the end of the day.
On inspirational figures
Are there any professionals or famous figures that have inspired you?  If so, who are they and why do they inspire you?  
Scott Belsky and Matthias Corea. The founders of Behance.
When I started doing product design and illustration work, they created a site called Behance. It's a platform to share work online.
I really liked the talk they gave on removing the bureaucracy and administration around who gets to work for big clients and who doesn't.
Back in the day, the same people got the big gigs and none of the little guys would get them. Whereas, their site promoted and highlighted work because of the merit of the work rather than who it was done by.
That meant that talented people who hadn't got to do any big projects yet were pushed to the forefront. There was no judgement about who they were, what their age was or where they came from.
So, it is about control again. Is that what you like about your business? That you're not getting manipulated by bigger companies who get a say in what you do and how you get there?
Yes, exactly.
On influential businesses
When considering businesses, are there any businesses that you respect or admire? Maybe a business that has influenced you?
I find the nature of fashion brands really appealing. Particularly, Yves Saint Laurent.
Fashion brands are not thinking from a business point of view. They produce creative work based upon whether they like it or not.
Fashion is purely selfish in that way. That's quite a good quality in a company, I think.
A company that is producing work regardless of what everyone else thinks.
A company that has the mindset of, "if people don't like it then, so be it."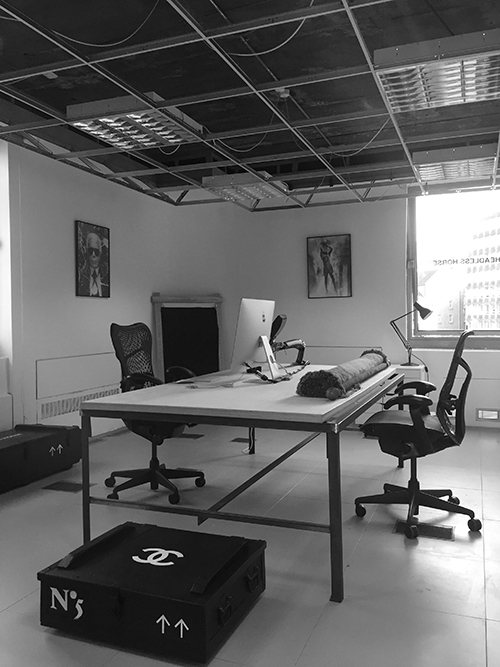 Headless Horse's working space
Takeaway points:
Professional anonymity is a complete advantage if you are young
Flexible working is beneficial for creatives as you cannot structure creativity
Flexible working can give you freedom and choice
Working for yourself removes bureaucracy and gives you more control
Self-discipline is challenging and also critical when working flexibly
Want to discover more Anywhere Stories?
Get stories to your inbox: