We recently met with Brendan Megannety of Explorer's Press. Explorer's Press is a print, apparel and accessories brand located in Vancouver, Canada.
For Brendan, exploring is part of his job and his brand. This means he works in the air, on the road or, in fact, anywhere he wants to.
With many impressive commissions, Explorer's Press has achieved growth, freedom, and flexibility.
Brendan shows how you can build your own independent label and a flexible, 'work anywhere' lifestyle.
On experiences before the business
Can you tell me about your background and how you got to where you are now?
My background is in fine art and printmaking.  
During high school, I taught myself the Adobe Creative Suite (Illustrator, Photoshop and InDesign).  
Following school, I didn't train formally. I didn't go to a university or college. I worked as a commercial screen printer and printmaker in Toronto.
I was showing artwork in galleries and other venues. I was also selling self-published books and prints via my own online store.
The Explorer's Press brand essentially started when I began to make a few products out of the screen printing supplies I had.
The brand has been my full-time job for almost 6 years now.
On the decision to set up the business
Why did you decide to start up the Explorer's Press brand?
I had been using a simple online store to sell a few products for a while, under my own name.
I just decided I would create a brand out of it.  
I started my brand at a time when there was a wave of people creating their own independent brands, including my friends.
Why were people starting independent brands?
If you wanted to start a company 20 years ago, you would put an ad in the back of a magazine that targeted your customer market. Then you would wait.
More recently, people started independent brands because of the rise of social media. Social media allowed them to market their business from a grassroots level. Social media gave these independent brands multiple points of contact with the customer. It made it easier for them to establish themselves.
What happened next?
I settled on the name Explorer's Press and then, finalised the rest of the branding.
In the first month of the business, I made more money through the online store than I made in my screen printing job.
In six months, it was so busy that I had to quit my job. I couldn't keep up the workload of doing the screen printing full-time and also having an online store.  
Within a year we had 1,200 orders a month plus wholesale.
It all snowballed from there.
It must have been pretty exciting when everything took off…
Yes. I was actually broke before that. It was cool because I never thought that it would be a creative job that would pull me out of debt.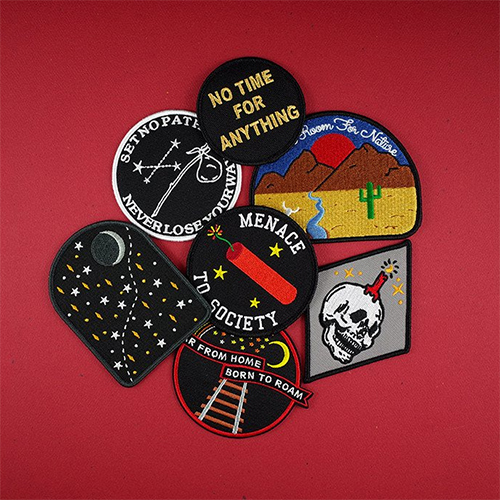 Patches by Explorer's Press
On the business
Are you enjoying it so far?
Yes. I've never been the kind of person who's been able to work well for other people.
I'm good at self-motivating. I find that the most important thing is setting a schedule or regimen for yourself. As long as I've got that, I'm good at getting the work done.
I like what I do for sure. It's better than a lot of other jobs.
Some people I've spoken with have said that they started their business out of a desire to gain control for themselves. Would you say that applies to you?
I never really intended to have a brand or do freelancing. I always wanted to work in the arts. It's just what ended up happening organically.
It wouldn't have been my first choice. I wanted to be a fine artist, have gallery shows and make prints. This is just what happened.
What changed? How come you didn't go down that fine art route?
I did but in a more diluted way.
I found that fine art was a case of feast or famine. I could land a well- paying gig or sell an original, but it could be weeks or months before that would happen again.
I would be left wondering when I would get the next job. It was frustrating not knowing.  The consistency of the work just wasn't there for me.
I was working as an industrial screen printer to supplement my income.
Then, I started making up products for the hell of it and people ended up liking them and buying them.
I found a different way to distribute creative content to people. Not everyone can afford to buy a thousand-dollar painting or buy a $100 print but they can afford to buy a $10 patch.
I guess that's why I ended up doing what I was doing. I wanted art to be accessible to people.
Why did you decide to focus specifically on patches and pins?
I always collected those styles of things. I've been collecting patches since I was about 10. I have thousands of patches and pins. These were the things I surrounded myself with.
They're all from the 70s and 80s.
I just thought, "why aren't people making cool versions of these?"
Why that particular era for your work? It's quite specific.
I don't know. The design from that era is interesting to me because it was all quite s***.
If you wanted to create a sign in the 70s, somebody came and painted it.
Whereas in the 80s somebody cut vinyl and slapped it up on the window. In the mid-eighties, you didn't have to be a competent illustrator or draughtsman to be able to put something together.
I kind of dig that. I think bad design is the best design.
Why's that?
There is something appealing about the idea of somebody who is not an artist designing something.
I like that people who aren't artists can think simply. Anyone can create a message or a slogan. I think that is where creativity is: in the slogan.
I also like the souvenir aesthetic of things just being slapped on top of that.
There's something about bad design which is visually appealing.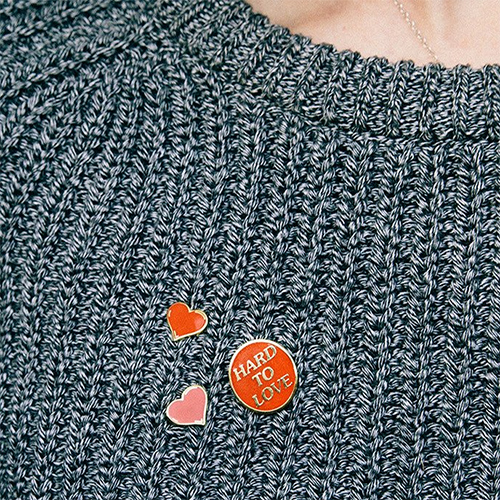 On the brand name and lifestyle
Why 'Explorer's Press' as a name?
I didn't put a huge amount of thought into the name. I guess exploration and travel are some of the central themes of the brand. It just seemed to make sense. Those two concepts are a pretty honest reflection of the things that I am into.
Do you travel to a lot of places to get inspiration for the pieces you design?
Yes. I'm away about a third of the time. I go on road trips and go sailing a lot.
I usually go to Toronto once a month for my freelance work.
I was just in New York a couple of weeks ago.
I was in Chicago not long ago, as well.
I've been travelling pretty steadily for the past five years.
Do you find it pretty easy to do your work there? Do you just bring your laptop and sketchpad?
Yes. I work on my laptop.
I try to knock out most of the preliminary stuff while I am away and then I come home to the studio to do the finishing work. Whether that means developing a sketch on paper or doing concept work on my laptop.
When it comes down to it, I have done full collections for brands from my laptop on a plane, in the air, with Wi-Fi.
I like travelling. I find myself inspired in places where I don't live. New York is inspiring. San Francisco is inspiring.
A big part of what I do too is jotting things down and recording things, such as slogans, taglines, photos and colour combinations, wherever I go.
I am away about a third of the time and I'm always working. I'm never on vacation. I'm still answering emails, still doing design work, and still sending out stuff for production.
On clients and customers
What sort of clients do you have?
I do a lot of white label products for bigger companies, which is about 50% of my work. I have probably 5 to 6 core clients. I do all their graphic design and merchandise.
What do you think draws people to your online shop and your work? It's quite a niche brand, why do think people are drawn to it?
I design things that I like and would wear myself. I also think sometimes people look for something cool, that represents them and their attitude.
On the challenges of setting up the business
Can you tell me about the struggles of setting up the business and how have you grown since?
People always ask me about the leap from working for somebody else to working for myself. They ask whether it was hard.
I'm grateful that I didn't need to take a huge leap from where I started.
I was working full-time to the point that I couldn't keep up with both the job and the brand. It was busy enough that I could just quit as I already had a steady income from the business.
I found it challenging putting my work out there for everybody to judge. The positive feedback can be overwhelming, but every once in awhile, somebody is going to say "oh that sucks."
I'm a sensitive guy.
I take it personally.
It's not always easy to hear.
On flexible working
How much job flexibility do you have?
I have absolute flexibility in terms of the hours I work. I choose to get up at the same time every day and try to finish at around the same every day.
I choose this routine for myself.
On the benefits of flexible working
What words would you associate with flexible working?
Choice.
Choosing when and where you want to work.
I know people that work from 9 am to 5 pm. Whereas, I can take a day off in the middle of the week and work on Saturday instead. Equally, I can work for 7 days straight and choose not to work for 3 days in the next week.
It's the freedom to do whatever you want and work wherever you travel.
I could think, "I want to go to Seattle for a night" and I would drive there. I wouldn't do anything that day but when I get to Seattle, I would open my laptop, answer some emails and make up for the work I should have done during the week.
On the challenges of flexible working
What are your challenges of being able to work anywhere? What are your challenges when travelling?
There are challenges when you are somewhere really fun or interesting.
For example, I was in New York a week and a half ago and it was beautiful. It was the end of September and it was 31 degrees outside. The sun was shining and it was hard to crack open my laptop. I wanted to be able to walk around, drink a good coffee and walk over the Williamsburg Bridge.
So, you would say the challenges are distractions?
Absolutely, when I'm travelling.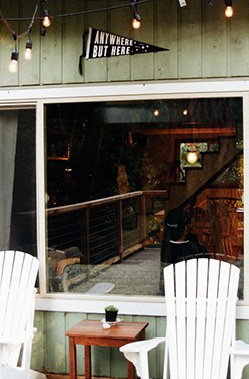 A soft good product by Explorer's Press
On the current working space
Where is your current working space?
I have a home office and I also have a studio in the back of my shop downtown.
My studio is where we do all the shipping and receiving for the brand.
My home office is where most of the creative work gets done. I spend most of my time at the home office.
On the ideal working space
Do you currently work in your ideal space? What does it look like?
Yes. I currently work in that space.
I am in my home office right now and I am basically surrounded by stuff. I aim to surround myself with inspirational things to feel creative.
I have a corkboard in my home office which is filled with pins, patches, and stickers. I am not a minimalist by any means. I have a lot of stuff. I like that. I can look at anything on these walls and feel inspired.
To me, it's the perfect work environment, to others, it's an absolute nightmare.
In terms of equipment here, I have my computer, my tablet, my speakers and I have a big desk where I can draw. Besides that, the stuff that gets me excited is looking at other people's designs or my own designs from a couple of years ago.
You say that your home office is your ideal working space. Why do you choose to work at home?
It's a tax write-off!
Other than that, it's a room in my house.
It is not hard for me to separate home life and work life, as long as I have everything in one room where I can close the door.
When I started the brand, I lived in a tiny basement suite and I literally had products on my kitchen table. I had stuff everywhere. It was really hard to separate my home life and work life.
I don't like being around the products or having products shipped out to the house, that's why I keep the studio downtown.
My home office is my ideal space because if inspiration strikes at 1 am in the morning I can get out of bed, go to the computer, and start drawing at my desk.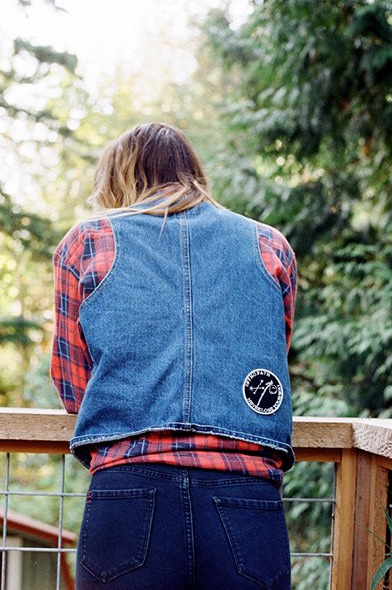 A patch by Explorer's Press
On professional goals
What are your professional goals? Where do you see yourself in the future?
I don't see myself doing the brand forever. It's changed a lot over the last 5 years. I can definitely say that my passion for it is starting to wane. Explorer's Press, as a brand, has always been another project for me.
I'm more interested in getting back into fine art and doing the freelance thing. Just having a few clients to keep me afloat.
I also have three other businesses that I can point my focus to.
When I was younger, I didn't know this is what I would be doing. I'm sure I wouldn't be able to guess what I will be doing in another 5 years. Things always seem to find a way of working out.
I'd also like to be able to travel more. Ten days is my upper limit right now because I have to deal with orders. I start to get bit anxious when I'm away for more than that. I'd like to be able to go to Asia for 10 weeks and work from there.
What are your three other businesses?
I have this brand, I have my freelance design work, I have a company that does commercial signage, and I also have a physical shop downtown.
On respected individuals
Do you have any of people or businesses that you respect?
In terms of creative people, I would say my friend Allister Lee from Toronto. He maintains a fine art career and a full design career. He travels all over for his work.
The way he works is almost my goal in terms of working as a designer and still having an art career. His lifestyle is probably the one that I would want eventually.
Brendan's main working space, his home office
Interested in going anywhere?
Get advice straight to your inbox: